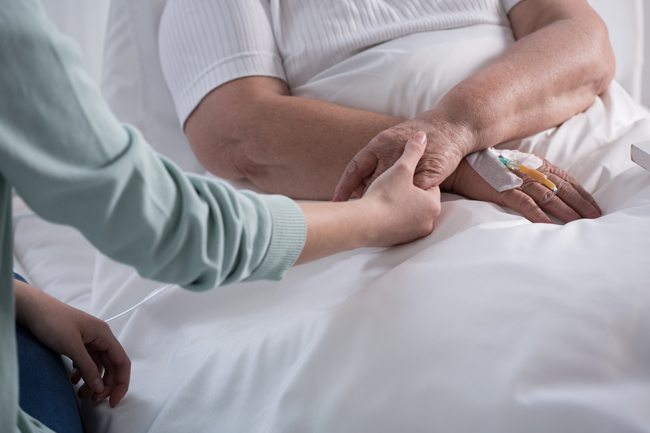 16 Oct

What is Palliative Care?

A terminal illness comes with a multitude of considerations. What's going to happen to my family? What about my pets? Why is this happening now, to me? What's to come of my personal finances? Are my loved ones going to be taken care of? These concerns are merely a sprinkling of all the thought that goes into processing a serious health condition. Fortunately, palliative care can help to make all aspects of life more manageable for people who are suffering.

Palliative Care: Who, What, When, Where, Why, How?

Palliative care exists to improve someone's quality of life after they're diagnosed with a serious illness, whether that illness is terminal or not. The individual has the opportunity to move into a care facility equipped with clinicians, medical staff, social workers, spiritual resources, and more. The goal is not necessarily to cure the individual's health condition, but to make them as comfortable and satisfied with life as possible.

Palliative care begins at diagnosis and can continue straight through to the end of someone's life. Places like cancer centers, hospitals, and other facilities are sources of palliative care. The typical approach is to address someone's needs entirely, encompassing physical symptoms, emotional turbulence, spiritual concerns, and logistics like finances and planning for the future of loved ones. This wrap-around approach helps to treat patients as whole people rather than as products of their total combination of symptoms. So often in Western medicine, patients can be reduced to a pile of labs, statistics, and numbers that fail to reflect the individual's sum total of challenges. Palliative care as an industry strives to counter this reduction of self with customization, compassion, and holistic support.

Family members or loved ones are encouraged to participate in an individual's palliative care so that circumstances stay as consistent and comprehensive as possible. Naturally, when someone close to a person is dying, there are emotional needs that come up. Palliative care staff is available to talk with friends, family, and other important individuals about the potential impacts of death, feelings around death, and plans for the future.

Payment is typically covered by insurance, although some end up paying out of pocket, depending on a person's particular plan. Care facilities are typically patient and supportive around covering costs and planning financially.

Who's Idea Was It?

A woman named Cicely Saunders pioneered the way for palliative care beginning in the 1940s. Saunders lived in London, and trained first as a nurse, then as a social worker, and finally as a medical provider. Her list of careers grew as she realized the immense diversity of needs among terminally ill patients. She worked tirelessly to meet them all as best as she possibly could, and inspired coworkers, subordinates, and even superiors to do the same.

Saunders started to work with terminally ill patients in 1948, and ultimately went on to dedicate her entire career to the work. She bonded with a Polish cancer patient who left her money to start a facility based on her ideals. Saunders founded St. Christopher's Hospice in England and is responsible for creating many of the foundational concepts that continue to drive the industry today. Eventually, she opened St. Christopher's, the first palliative care facility, in London, England.

How Did Palliative Care Get to America?

In 1963, Saunders traveled to the United States and lectured at Yale University to a wide array of professionals about her ideas regarding palliative and end of life care, which was a brand new concept at the time. Her research and her work helped birth Elizabeth Kubler Ross's famous book On Death and Dying, which further helped to transform the way people in modern society think about the death and grieving process. Rather than being afraid of death, Saunders encouraged people to think about it the same way they thought about birth, to admire it for being a natural phenomenon. The support around birth is radically different than that around death, and Saunders thought the processes should be more similarly conceptualized.

What Were Some of the Founding Concepts of Palliative Care?

• Total Pain was coined by Saunders to describe the array of facets affected by a terminal diagnosis, including physical symptoms, emotional needs, spiritual concerns, and logistics. She acknowledged that opioids and pain medication were safe to use as a part of palliative care, but that they would not address all of the pain someone needed to sort through as a result of being near the end of life. Grief counselors, social workers, spiritual leaders, and counselors were welcome at St. Christopher's. Saunders believed in helping people however she could, and in individualizing plans based on someone's particular circumstances. She valued listening carefully and responding with respect.

• Individuality, Dignity, and Worth: Saunders believed that each person mattered and was worthy of the absolute best comprehensive care until the very last moment they were alive, regardless of anything else.

• In-Home Care: Saunders formulated home-visiting based palliative care after a patient returned to a care facility because a doctor refused to prescribe adequate pain medication. Saunders realized that the same quality of care she and her colleagues provided needed to be accessible to anyone who needed or wanted it. Some patients are more comfortable in a live-in facility while others prefer the comforts of their own homes. What works for one person is not the best fit for another. Saunders understood this completely, and challenged her staff at St. Christopher's to organize a home visiting service that delivered exactly the same quality of care as the care center. Naturally, they responded enthusiastically and went about creating new branches of the agency with innovation entirely from scratch.

What is Palliative Care as Opposed to Hospice?
While palliative care begins at the time of diagnosis and may or may not include treatment, hospice care begins when a person has less than six months to live. Treatment of the actual health condition is discontinued, and treatment turns into symptom management and keeping the individual as comfortable as they can possibly be. The comprehensive nature of care continues to address needs beyond the physical. Hospice care can continue past six months with the re-certification of a patient's condition by a clinician. Family continues to be part of care once it turns into hospice care, and it can be reversed back to palliative care if circumstances change. Sometimes people go into remission or desire to start treatment again for a variety of reasons. There is a common perception of hospice care as dark, depressing, and concrete. Realistically, it is none of these things, and has the potential to be a uniquely comforting, supportive, flexible experience.
Feel free to think about hospice care and palliative care as the square and the rectangle. All hospice care is palliative care (all squares are rectangles) but not all palliative care is hospice care (not all rectangles are squares). Palliative care is more encompassing, while hospice care is more specialized and refers to a shorter period of time.
Auburn Crest
Auburn Crest is a palliative care facility that serves Idaho and Colorado in the United States. They provide all of the aspects of comprehensive care you would expect, and then some. Auburn Crest makes a promise around preservation of patients' dignity and worth above all else.