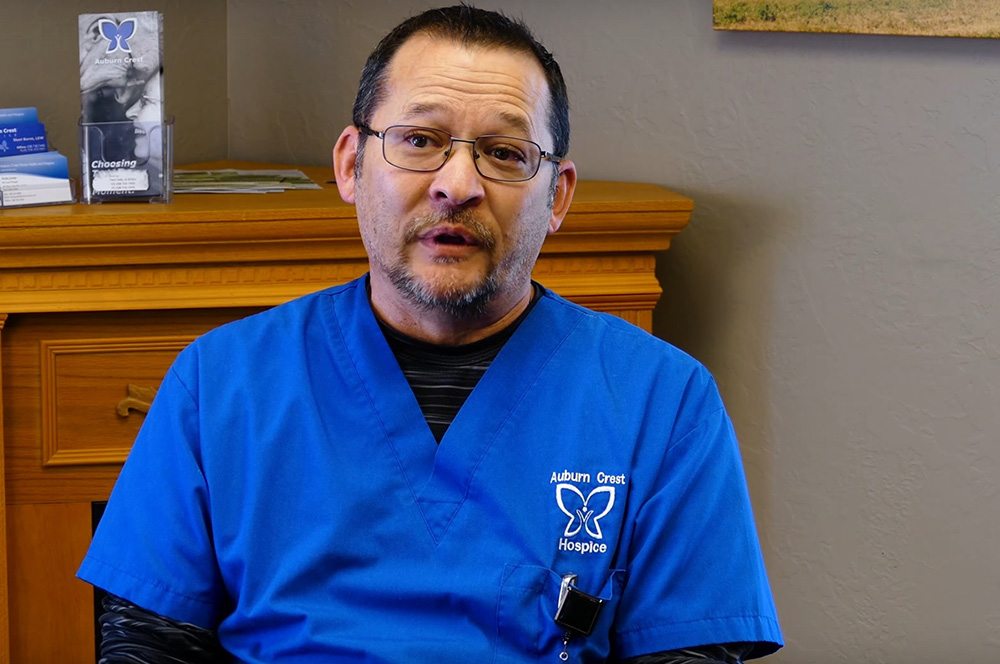 01 May

Meet Donnie Johnson: "Caring For The Families"

Meet Donnie Johnson,

Certified Hospice Palliative Licensed and Field Nurse for Auburn Crest Hospice. Donnie serves as the eyes and ears for the nursing staff and doctors. He has been with Auburn Crest for two years now and Donnie takes special measure to make sure end-of-life goes smoothly not only for the patient, but the family as well.

In his words,

"Caring for the families – that might sound kinda strange because we're there for the patients also, but the education we provide for the families is very satisfying. That they can take care of a loved one, as well know what's going on during the dying process."
Donnie perfectly illustrates the complexity necessary to give quality hospice care. Supporting end-of-life takes a special personality type. Someone who understands the nuances and psychological needs of both patient and family. For more information on this topic, check out our blog titled, Emotions of Hospice: Taking Care of The Family.

But a couple key things to remember are:

• Take Breaks

Sure, nobody wants to leave their loved ones alone in hospice care; however, rotating the duties among the various family members is vital. This allows family members to take breaks where they can relax, unwind, and take care of other family duties.

• Take Care of Yourself

The entire family needs to take care of themselves to make sure they are prepared to manage what's ahead. Rest will also keep people's emotions from overflowing.

Donnie goes on to tell the story of one patient who he helped shortly after joining Auburn Crest,
"We had a patient right after I came on, it was last January and they were (the family), they were struggling. It was a husband and his stepdaughters – and their mom was on hospice and it was to the point where they were just so overwhelmed with everything that myself and the director of nursing right now…we stepped in to do care basically for the family, not for her, but we were there day and night for two days."
He goes on to finish,
"To give them that break, to give them that time to sleep, to give them that time to do the personal things they need, to where they can recharge for the Mother."
The greatest gift a hospice care provider can give is the return of emotional and physical energy necessary for dealing with end-of-life, and Donnie Johnson is perfect case study.