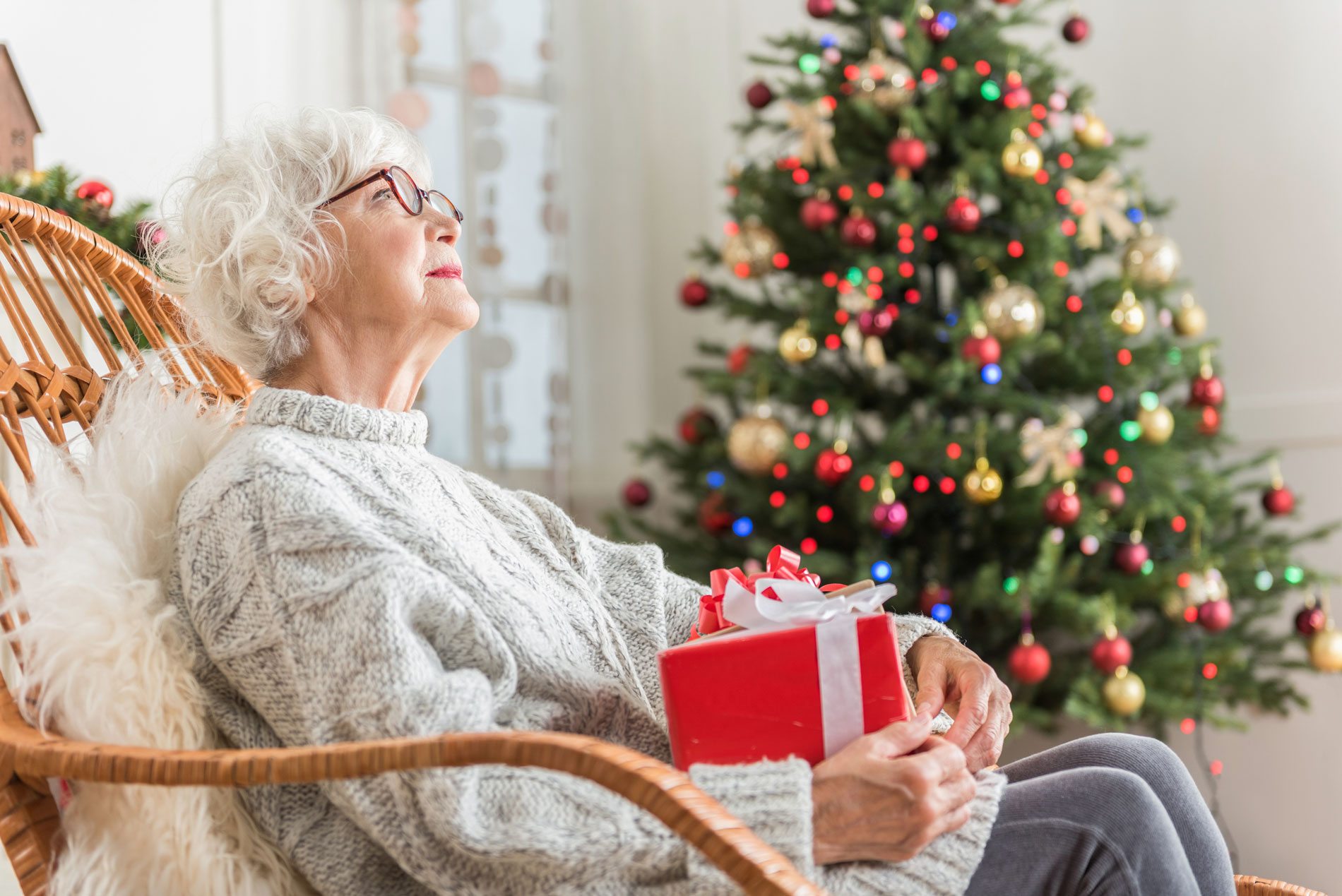 11 Dec

8 ways to help hospice patients feel "Holiday Cheer"
"Christmas is a tonic for our souls," observed B.C. Forbes. Hospice patients need this "tonic" of the holiday seasons perhaps more than any other group. Though celebrating Christmas with them may require some creativity, family, friends and caregivers can help hospice patients feel "holiday cheer" in several ways.
Decorate
Decorating for Christmas may seem like a frivolous extra to hospice patients as they deal with their illness. Yet, putting up a Christmas tree and stringing a few lights may be very important. ""In a world full of stress and anxiety people like to associate to things that make them happy and Christmas decorations evoke those strong feelings of the childhood. Decorations are simply an anchor or pathway to those old childhood magical emotions of excitement," says psychoanalyst Steve McKeown.
A patient may need help planning and carrying out the decorating. Since hospice care often changes a patient's environment with medical equipment and supplies, traditional decorating may not be possible. Thinking "outside of the box" can result in creating a festive environment even with these changes as Woodland Garden Club and Art Guild in Kingsport, Tennessee discovered years ago. The group began their tabletop Christmas tree program in 2007. They purchase and decorate several small Christmas trees each year for the patients of Amedisys Hospice. "Families are so grateful to have these trees because many times they don't have time to decorate. It takes a little of the pressure off of the families, so they can focus on caring for their loved one," said Cassie Parrish, volunteer coordinator at Amedisys Hospice.
Schedule a Christmas Carolers' Visit
Another important part of Christmas for many hospice patients is the music of the season. Yet their health condition now may limit their ability to enjoy the Christmas program at their church or the local school. Many groups enjoy Christmas caroling in the community during the holiday season. It gives them an easy way to prepare for upcoming holiday concert and serve their neighbors. Scheduling a home visit can be as simple as calling a local school, community choir, or church youth group. The benefit of such an experience is well-established. Dr. Kristine Batcho, a psychology professor at Le Moyne College and nostalgia expert, says, "Whether secular or religious, by connecting us to a shared tradition, holiday music can renew our sense of belonging to something greater than ourselves. By reminding us of events, customs, beliefs or rituals, holiday music can help us feel connected to others, even during times of stress or loneliness."
Send Out Christmas Cards
The first Christmas card was commissioned and sent out by Sir Henry Cole in 1843 in Victorian England. Sending and receiving of Christmas cards is a well-loved tradition by many hospice patients. Having grown up in a time before social media and email, the annual ritual was an important way for patients to stay connected with extended family and far away friends. Though a patient's physical illness might prevent them from making the trip to the post office, family can still encourage them to send out those holiday greetings. The patient's hospice team should include volunteers who can pick up the cards at the store and delivery them to the post office for mailing. If the patient is unable to write the card's message, the volunteer can even serve as scribe, writing as the patient dictates. The sending of Christmas cards can actually be healthy as it strengthens connections with other people. As the Harvard Women's Health Watch reports, "Scientists are investigating the biological and behavioral factors that account for the health benefits of connecting with others. For example, they've found that it helps relieve harmful levels of stress, which can adversely affect coronary arteries, gut function, insulin regulation, and the immune system. "
Enjoy Neighborhood Christmas Lights
Thomas Edison not only invented the light bulb; he also invented Christmas lights. He decorated the grounds of his New Jersey laboratory with strings of lights for the 1880 Christmas holiday. People traveling by railroad between New York and Philadelphia described it as "a fairy-land of lights."
The love affair with Christmas lights continues. There may be a good reason for this, as researchers have discovered that lighting affects our health. Chronobiologist Dr. Victoria Revell says, "'Light is critical for our health and well being." Psychologist Thomas G. Plante sees Christmas lights, Hanukkah lights, and Kwanzaa candles as important symbols of hope in darkness. "Optimism and hope are powerful motivators, and psychology research has well demonstrated that there are many psychological and physical benefits of nurturing these qualities and virtues," he says.
This supports planning a Christmas light revue for a hospice patient. If he/she is able to ride in an automobile, map out a drive through the town to view good light displays. If the patient is homebound, do a virtual reality tour. Video the trip on a smart phone and bring the light show to the patient.
Plan a Christmas Movie Watch-a-thon
"A Christmas Story," "It's a Wonderful Life," or "Home Alone"-everyone has their favorite Christmas movie. Interview the patient and find out his/her favorite holiday classics and plan a Christmas movie watch-a-thon. It will be an enjoyable time for the patient, but it can also have a positive impact. Psychotherapist Dr. Birgit Wolz has developed a practice called cinema therapy that uses all types of movies to promote healing and growth for individuals facing various challenges. As Dr. Cathy Malchiodi writes in Psychology Today, Christmas movies may be one of the best genres for cinema therapy. "Holiday films are particularly evocative, not only because of their content, but also because they air at a time of year when we are taking stock of our lives and relationships, reflecting on endings, and imagining new beginnings," she writes.
Read the Christmas Story
Though the hospice patient's illness may not allow for attending Christmas services at the local house of worship, the spiritual foundation of the season can still be celebrated. Schedule a quiet time as Christmas nears to sit with the patient and read the Christmas story from the Bible passages in Luke 2 and Matthew 2. If the patient feels up to visitors, invite family and close friends to be a part of this home Christmas celebration. This time of reading can increase a patient's sense of connectedness with others, as C.S. Lewis said, "We read to know we are not alone."

Go Shopping Online
While a trip to the local shopping mall may be too much for a hospice patient, with the help of a caring person and technology, a patient can still shop for gifts to give to family and friends. This can have many benefits for the patient. First, it focuses his/her attention on the recipient and away from the patient's current health condition. Second, it gives them a sense of control as they make decisions of which gift to purchase. Finally, researchers have discovered that generosity is healthy. In a 1999 study of elderly volunteers, it was discovered that they had a 44% less likely chance to die over a five-year period than non-volunteers.
Facetime Far Away Family and Friends
A final way of helping hospice patients experience holiday cheer is to set up a video conversation with friends or family members that are far away. In modern life, it is not unusual for family to live in separate parts of the country and not be able to visit during Christmas. For the hospice patient, this can be especially distressing. Yet with some planning a technological substitute can be arranged. A video chat over Skype or Facetime can enable the patient to talk to his/her family, see their Christmas decorations, and remained connected emotionally with children and grandchildren. The strengthening of relationships this way has been proven to benefit a person. As psychologist Leslie Becker-Phelps writes, "People who have strong social ties are much more likely to live longer than those who are more isolated. Holt-Lunstad, the lead author of a study (2010) that reviewed and analyzed research in this area, noted, "A lack of social relationships was equivalent to smoking up to 15 cigarettes a day."
"Christmas waves a magic wand over this world, and behold, everything is softer and more beautiful," wrote Norman Vincent Peale. With help from friends and family, the Christmas "magic" of holiday cheer can still touch hospice patients.